Before & After School Program
Kids Klub's School-Age Program is more than just a place for your child to hang out while waiting to be taken to school—or picked up after a long day at school. What sets us apart is: our dynamic, well-rounded programming; our loving staff that gets to know each child for who they are; and a top-notch homework room where your child will actually learn, complete their work correctly, and acquire valuable study skills.
Our School-Age Program looks to strengthen your child's zest for learning and living, while providing the comfort and safety of a home away from home. By providing structure and routine, combined with the excitement of fun activities and engaging people, we actively facilitate your child's academic, physical, social and emotional growth.
Whether your child is "buying" a prize with stars that he/she earned during Homework Time; constructing a model of his/her dream home in Architecture Class during Hobby Hour; collaborating with other children by creating a skit for the Holiday Show; or singing with his/her favorite bus driver on the way to or from school…your child will create special memories and bonds each and every day at Kids Klub.
What's included in the Before School Program:
---
Industry leading low teacher to child ratios. Click here for ratios of each center: PASADENA, SAN GABRIEL/ROSEMEAD, and SOUTH PASADENA
Transportation to your child's school by thoroughly-trained drivers in safe, well-maintained vehicles
Healthy, nutritional, mostly organic and homemade, child-friendly breakfast and snacks
An assortment of fun, educational, engaging activities
All teachers are background checked, fingerprinted, CPR & First Aid Certified, thoroughly-trained and college educated in child development or a related field
What's included in the After School Program:
---
Industry leading low teacher to child ratios. Click here for ratios of each center: PASADENA, SAN GABRIEL/ROSEMEAD, and SOUTH PASADENA
Transportation from your child's school by thoroughly-trained drivers in safe, well-maintained vehicles
Healthy, nutritional, mostly organic and homemade, child-friendly snacks
A quiet homework room with teacher assistance
An assortment of fun, educational, engaging activities
All teachers are background checked, fingerprinted, CPR & First Aid Certified, thoroughly-trained and college educated in child development or a related field
As you can see from this sample schedule, our program is diverse, highly-structured, while it simultaneously values your school-age child's ability to have and make choices.
Download Sample Schedule
Homework Time
The fundamental purpose of our homework room is to routinize study skills and make children self-sufficient when it comes to homework. While children will often require assistance at some point during their homework, Kids Klub's homework program looks to eliminate the occurrence of children raising their hand and declaring, "I don't know how to do this." On a day to day basis, getting children to complete their homework neatly, thoughtfully and daresay, even develop a passion for homework, is ultimately what Kids Klub strives to do.
We provide a quiet, calm, library-like environment for children to complete their homework. In order to achieve a unilaterally quiet homework room, we institute 10 core homework rules and incentivize the children's adherence to the rules with our "star program." That is, every day that children follow the homework room rules, they earn a star. At the end of every month, we open a spectacular prize room and children can buy items by using their stars as currency. We even have really big prizes that children can save stars over several months to purchase.
It is important to clarify that children DO NOT earn stars for doing their homework. We do not believing in rewarding them for doing something that they should be doing anyway. Children earn stars by following the homework room rules—some of which are designed to create a quiet environment and some of which are designed to reinforce and routinize study skills.
The length of time that children spend in the homework room varies from individual to individual. Children can remain in the homework room as late as 6:00pm. Furthermore, children cannot leave the homework room until they have completed their homework/studying for that day and this work has been reviewed. Unless otherwise noted by the parent on a homework questionnaire, all children must attend the homework room Monday-Thursday for at least 30 minutes doing something academic—even if they do not have homework. Worksheets are available and there is a writing topic on the board as well. Different work is assigned to different children based on their individual needs. 3rd graders and up usually have something to study or mandatory reading and these things take precedent.
When transitioning to homework time, staff members perform a group talk-through about the procedures of entering the homework room and what to do when inside of it. Once in the homework room, staff members touch base with all the children in their homework group and review their agendas individually with them. If they do not have an agenda or it is not updated or incomplete, staff members will have them fix it or make one. Then, staff members will perform a group talk-through pertaining to specific procedures and techniques that will benefit the majority of children in completing their homework.
At Kids Klub, we recognize that while some children naturally gravitate towards glittery crafts and scrapbooking, other children are more interested in doing a science experiment or playing basketball. It is no secret that children appreciate having choices and having choices is vital to their autonomous development and improves their decision-making skills. Thus, ROUND ROBIN! We ensure that there are between 3 and 4 separate, structured, dynamic activities. Round Robin sounds exactly like it's name – it is designed to guide our kids to be the most well-ROUNDed version of themselves through choices that vary from flag football championships, storytelling, slime creations, scavenger hunts, and more!
Hobby Hour
Hobby Hour is an indelible Kids Klub tradition complete with its own chant, "IT'S HOBBY HOUR! IT'S HOBBY HOUR! IT'S HOBBY HOUR!" It is a time where kids AND staff can find new passions in a safe and inspiring setting. Each month, children get to choose from a variety of hobbies—which are each conceived of—and led by—a specific staff member. After choosing a hobby, children will take part in that hobby once a week for 4 weeks. This deeper dive into a particular hobby often results in larger projects and surprisingly developed skills. Since our hobbies rotate each month, our children are exposed to endless passions and pastimes. Some examples of past Hobby Hours include:
Animation Academy, Master Chef Cooking, Yoga, Basketball All-Stars, Photography, Leather Working, Journaling, Comic Strip-Making, Dance Choreography, Theater, Flower Pressing, and BEYOND!
Transportation
Transportation services are provided for children in its before and after school program from a large list of local elementary schools. Transportation is included in the before and after school rates. Depending on the location, our fleet may include: full to midsize school buses, youth buses, passenger sprinter vans, and minivans. All of these vehicles are fully air-conditioned with seat belts, booster/car seats (as needed) and sound systems. All of our drivers have the proper license and certificates in order to drive the vans and/or buses. Our school bus and youth bus drivers go through a rigorous training program of over 20 hours—in addition to written and behind-the-wheel tests by the Department of Motor Vehicles and/or State Highway Patrol. Drivers ensure that safety procedures are undertaken. They create a safe and fun environment for the passengers. All vans are equipped with car seats.
Every vehicle is equipped with a cellular phone in case of an emergency. All vehicles are inspected on a daily basis by their drivers; on a rotating basis by a certified mechanic; and annually by a State Appointed Motor Carrier Specialist.
Drop-Off Days
There are many days throughout the year when your child has the day off from school due to holidays, in-service days, pupil-free days, etc. Many times, as parents, you still have work on these days and childcare is much needed. Kids Klub remains committed to meeting the various scheduling demands of school-age children and their families. We provide full day care and exciting activities, for children enrolled in our before or after school program. Our evening & weekend school-age hourly rate applies up until the time that the child is regularly scheduled to attend. For information on evening weekend rates, please click on your center below.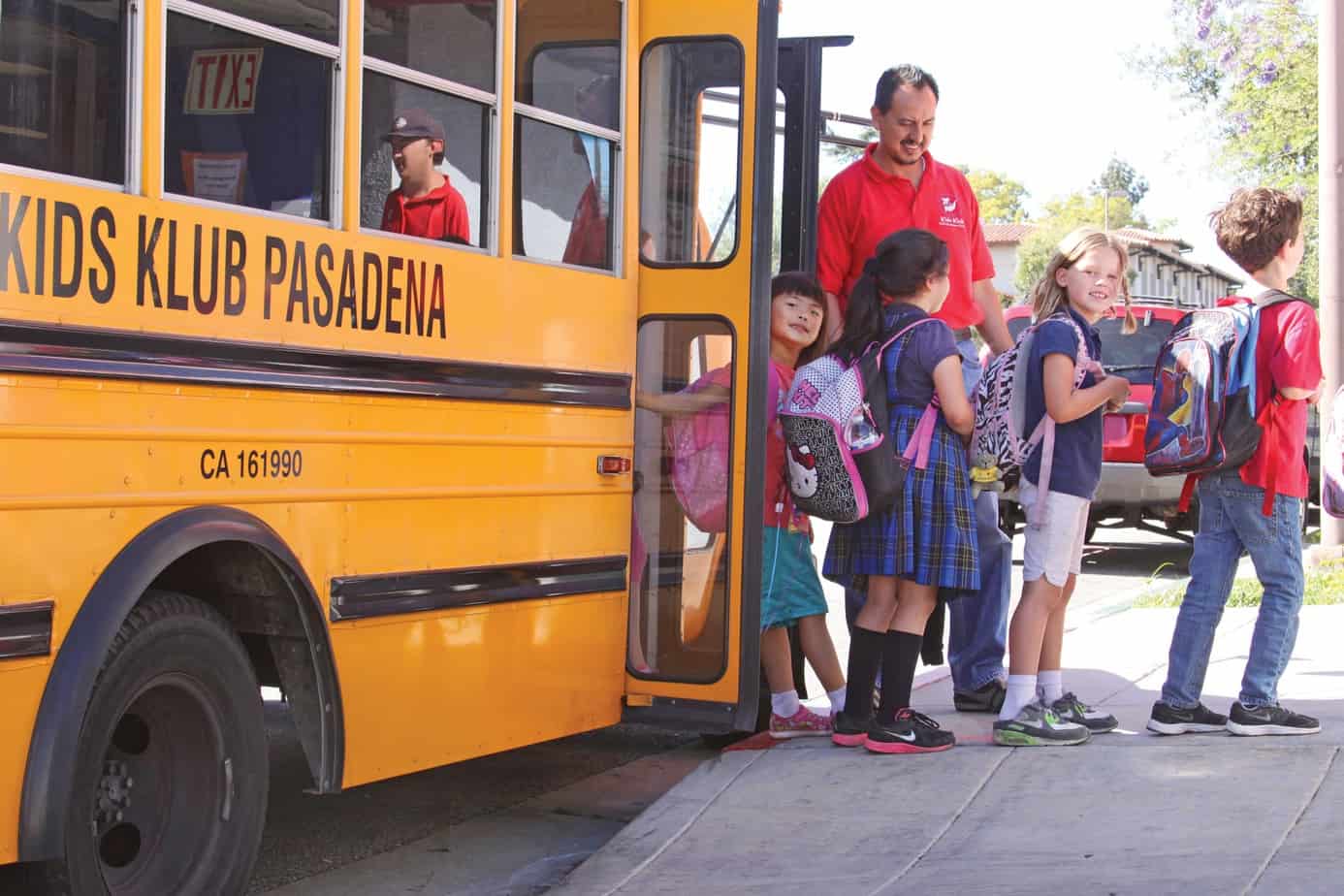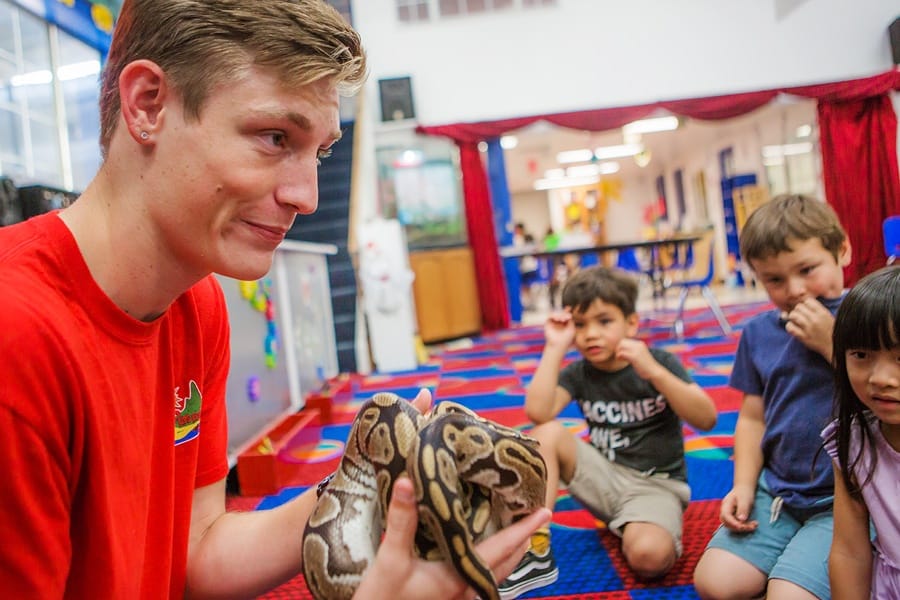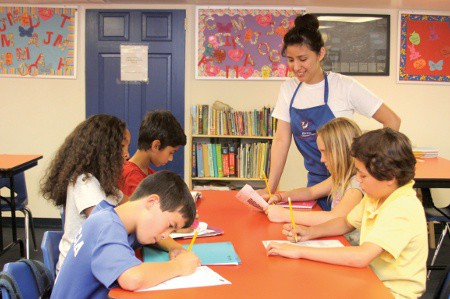 Before & After School Food Program
We believe that proper nutrition is one of the most important aspects of a child's development. We believe our food program should not only provide children with the nourishment their young bodies need to thrive, but also teach them healthy habits that they can carry with them their entire lives. Kids Klub has put a great deal of effort into creating a food program that meets its own internally high standards. We constantly look for innovative ways to incorporate and source healthy ingredients consistently. The result is a menu that is high-quality, nutritionally-balanced, and above all, something that children actually enjoy. We are extremely proud of the food program that we are able to offer at a reasonable price. (Reminder: all breakfast and snacks are included with your tuition.) Here are the guidelines* within which we operate.
Kids Klub Daily Food Program Guidelines:
No High Fructose Corn Syrup (HFC)
No Monosodium Glutamate (MSG)
No Trans Fats and Hydrogenated Oils
Elimination of Genetically Modified (GMO) foods
We use organic foods wherever possible. All the chicken, beef and eggs we serve are 100% organic. We will never serve fruits and vegetables on EWG's "Dirty Dozen" list if they are not available organically. While we always strive to serve all organic fruits and vegetables when available, we will substitute conventionally grown fruits and vegetables if the conventional fruit or vegetable is on EWG's "Clean 15" list. We serve organic maple syrup, ketchup, tomato sauce, granola, animal crackers, and more!
We use only 100% Hormone and Antibiotic free milk
100% fresh fruit (No canned fruit at all)
Only water and milk are served (No fruit juice or sodas)
Use of only fresh or flash-frozen vegetables (other than organic beans in non-BPA lined cans)
Use of 100% Whole Grains in all breads, tortillas, crackers, and pizza dough (No white bread products)
High Protein/High Fiber Pasta made of special flour blend from lentils, chick peas, oats, spelt, barley, egg whites, ground flaxseeds and wheat fiber (17g of protein in a 3.5oz serving) or 100% organic high protein pasta
Use of 100% Brown or Wild Rice (no white rice)
Nitrate free foods including turkey bacon
Homemade salad dressing, guacamole, and hummus
Limiting the use of added sugar and salt
*[Please note: We are unable to meet all these guidelines on certain camp field trips where food is provided by outside vendors.] 
Last, but certainly not least, our chefs are all professionally trained with food safety certificates. They have huge hearts for children—and they get great satisfaction knowing the important role they play in your child's development.
PLEASE DOWNLOAD YOUR CENTER'S MENU BELOW TO FIND OUT WHAT DELICIOUS AND NUTRITIOUS FOOD IS BEING SERVE AT KIDS KLUB THIS MONTH!
A variety of full-time and part-time programs are available to accommodate most schedules. Extracurricular classes are available in the evening for your convenience. Moreover, if you need to stay late at work or want a well-deserved parent's night out, our Evening & Weekend program is there for your child to continue to enjoy all the safety, comfort, education and fun that Kids Klub has to offer.

Please click below for a particular center and information on hours, programs and rates: